Steam Jacketed Kettle Application
The jacketed kettle is applicable to the heating, boiling and stewing operation to the material within the industries such as pharmaceutical, candy, food and so on. The inner container is made of good quality stainless steel. With polished treatment, the unit is acid-proof and corrosion resistant.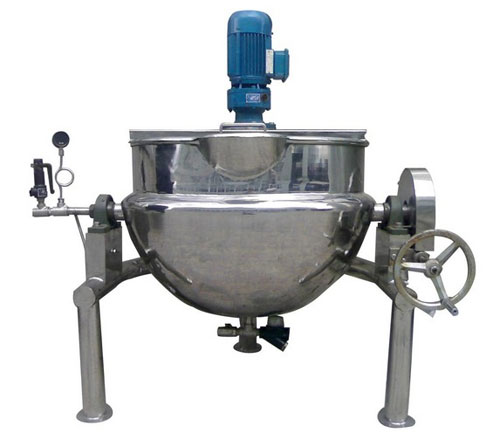 A steam jacket kettle usually consists of a pot body and feet. The pot body is a double-layer structure form composed of an inner and outer spherical pot body, and the sandwich layer is heated by steam. There are fixed, tilting, stirring, and other styles.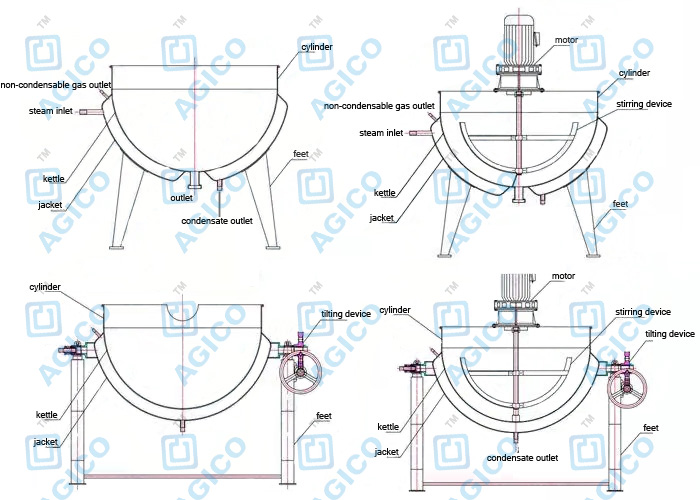 Steam Jacketed Kettle Features
The pot is heated either by electricity or gas, no limits on power.
Large heating area, high thermal efficiency and even heating.
Designed reasonably, easy to install and operate.
Short working time, safe working process.
Energy efficient, reliable performance gas-fired heating system.
Steam Jacketed Kettle Structure
A steam jacketed kettle can be stationary or tilting. The stationary steam jacketed kettle mainly consists of kettle and arm braces. The tilting steam jacketed kettle mainly consists of kettle and tilting frame. The kettle is designed with inner and outer steel walls, heating by releasing steam into the interlining space.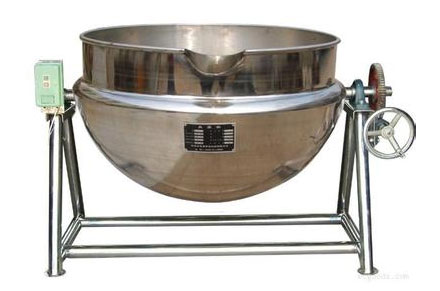 Precautions for use and maintenance of the steam jacket kettle:
Before use, check each transmission part and add lubricating oil to avoid damage to the equipment due to dry grinding.
Check whether the electrical wiring is intact, whether the connection is safe and firm, and whether the fuse is matched, and ensure that everything is complete before it can be powered on.
Check the amount of heat transfer oil added before starting, and that the amount of oil added is 5 cm below the oil filler.
Check whether the fixing bolts of the crank handle are firm, and avoid friction and leakage between the heating pipe and the pot body when shaking.
The operator cannot operate with water, and when there is oil leakage outside, stop the operation.
During operation, the temperature should be strictly controlled, and under normal circumstances, it should be controlled below 200 degrees.
Before discharging, the inlet and outlet of the heat transfer oil should be blocked before discharging.
Every time you change the oil, you should first remove the electric heating tube and clean it with alkaline water before adding oil.
After each month of use, the heat transfer oil should be drained, add 40 °C, 2% lye filled with the jacket and soak for 2 hours, and then wash with hot water.
The steam jacket kettle is high-energy-consuming electrical equipment, which should be strictly implemented following the regulations during use, and make daily operation records to better maintain the equipment.
| | |
| --- | --- |
| | |
AGICO packs and ships for you

Steam Jacketed Kettle Technical Parameters
Stationary steam jacketed kettle parameters
Model

JCG-50

JCG-100

JCG-200

JCG-400

JCG-600

JCG-800

Volume(L)

50

100

200

400

600

800

Design pressure

Normal pressures

Steam heating
Design pressure

0.09-0.75 Mpa

Pot diameter
(mm)

600

700

800

1000

1200

1300

Agitating Power
(kw)

0.55

0.75

0.75

0.75-1.5

1.1-1.5

1.1-2.2

Agitating speed
(r/m)

20-200

20-200

20-200

20-200

20-200

20-200

Heating area
(m2)

0.55

0.75

0.98

1.53

2.2

2.6
Tilting steam jacketed kettle parameters
Volume(L)

50

100

200

400

600

800

Pot diameter
(mm)

600

700

800

1000

1200

1300

Pot dept
(mm)

400

450

530

680

780

830

Heating area
(m2)

0.45

0.58

1.12

1.75

2.3

3.9

Connected dimension

Steam pipe

3/4 inch

1 inch

2 inch

Condensate
pipe

3/4 inch

1 inch

Working pressure

≤0.09 Mpa (be adjustable according to application)

Agitating speed
(r/m)

36 r/min (be adjustable according to application)

Agitating power
(kw)

0.55

0.55

0.75

1.1

1.5

2.2