Tube-in-Tube Sterilizer Introduction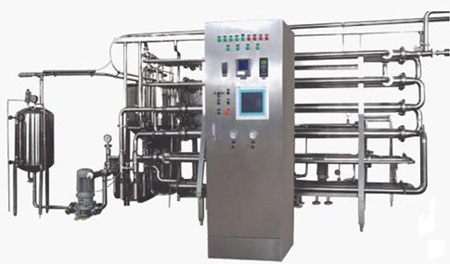 Tube-in-tube sterilizer is suitable to heat and cool the liquid not corrosive to the stainless steel, especially for the heat-sensitive liquid with granules, fibers and high viscosity. So it was usually considered as an ideal sterilization equipment of milk, fruit juice, beverage or similar fluid and materials.
The tube-in-tube sterilizer has 4 layers concentric tubular, the inner two layers and outside layer go through heat exchange medium and the middle will be running with the product to maximize the heat exchanging area and efficiency, make the temperature even and then thoroughly sterilize the product.
Tube-in-Tube Sterilizer Structure
The sterilizer consists of product receiving tank, superheated water tank, pumps, product dual filter, tubular superheated water generate system, tube in tube heat exchanger, PLC control system, Control cabinet, steam inlet system, valves and sensors, etc.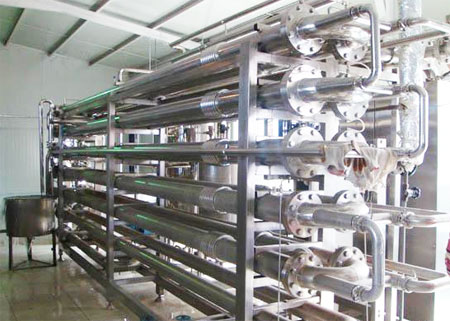 Tube-in-Tube Sterilizer Working Principle
Put the production from a storage tank mounted for the sterilizer into the heat exchanger unit.
Heat the product by superheated water till the sterilizing temp and hold the product under the temp for sterilizing the product, then cool down into filling temperature by cooling water or chilled water.
Before each production shift, sterilize in place the system with aseptic filler together by superheated water.
After each production shift, clean in place the system with aseptic filler together by hot water, alkali liquid and acid liquid.
Tube-in-Tube Sterilizer Features
Adopting the method of superheating water heating to improve the heat effect.
Great heat exchange area, low energy consumption and easy maintenance.
Auto reflux if not enough sterilization.
Liquid level and temperature controlled on real time.
Separate control panel, PLC and human machine interface.
CIP and auto SIP available together with aseptic bag filler.
Main structure with high quality stainless steel.