Fruit Juice Processing Line Introduction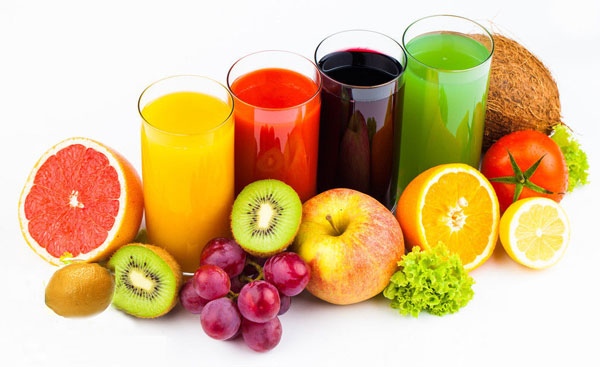 Our company is committed to the complete line of the fruit juice production. The whole fruit juice production line is widely applicable to produce apple juice, blueberry juice, orange juice, pineapple juice, orange juice, mango juice, lemon juice, cherry juice, prune juice, cranberry juice, carrot juice, kiwi juice, peach juice, pear juice, and strawberry juice, etc. we provide a comprehensive range of services right from processing and storage to transport and packing of various kinds of shape and style, in order to offering the specific juice with original nutrition, color, and flavor of the fruit.
Fruit Juice Production Line Flowchart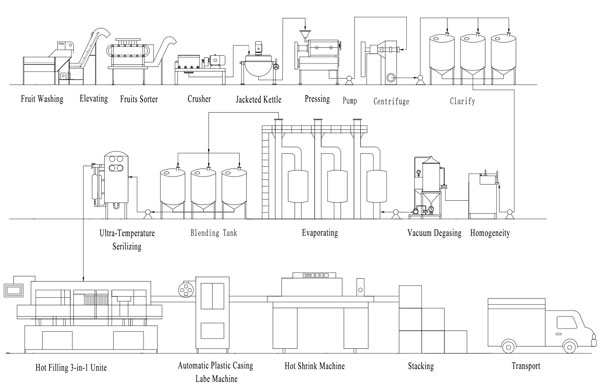 Fruit Juice Processing Equipment Introduction
(Fruit Washing Machine—Fruit Sorter—preheating machine—Pulping Machine—Belt Filter Press— Disc Centrifuge—Ultrafiltration—Mixing Tank—High Pressure Homogenizer—Vacuum Degasser—Vacuum Evaporation Machine—UHT Sterilizer—Hot Filling Machine—Continuous Spraying Sterilizer—Shrink—Plastic Casing Labe Machine—Wrap Around Case Packer)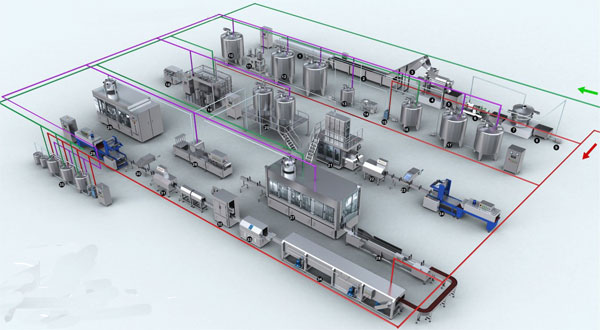 Function of some equipment
Preheating machine
: For juices it is essential that the original content of pectin shall be retained throughout the production. In this case, fruit enzymes must be inactivated during processing as soon as possible by a preheating process.
Clarify(Enzymatic Hydrolysis Tank)
: For clear, filtered juices a breakdown of pectin is needed to enable a good yield and high degree of juice concentration, and this is done by adding specific pectolytic enzymes which hydrolise the pectin substances
Ultrafiltration system:
To obtain clear juices, the enzymation is not the only steps required, but after that other phases such us sedimentation with fining agents, and ultrafiltration system are required.
Vacuum degasser: The contact with the air can be dangerous for fruits sensitive to oxidation, so, in some cases, it could be necessary to provide degasser system before the product packaging.
Fruit Juice Production Line Characteristics
The production capacity of the fruits juice production line is 2 to 6 T/h
This production line can treat the fruit with similar characteristics, such as pear. Adjusted some specific process equipment of the production line, can satisfy different needs of fruit juice with different kinds of characteristics.
The sterilization system realizes the automation of the disinfectant concentration and effectively guarantees the effect of the sterilization.
Use efficient Belt Filter Press to boost the juice yield.
Concentrate in low temperature, greatly reduce the losses of flavor and nutrients.
The whole processing line was controlled by PLC system, operation easy and save labor greatly.
With the variety of juice processing equipment provided by AGICO, you can:
customize the processing line to meet your needs.
Mix and match products to suit your needs.
Easily replace individual components of existing production lines.
Scale up your business more smoothly.
Produce juice more efficiently.