Stainless Steel Tanks Application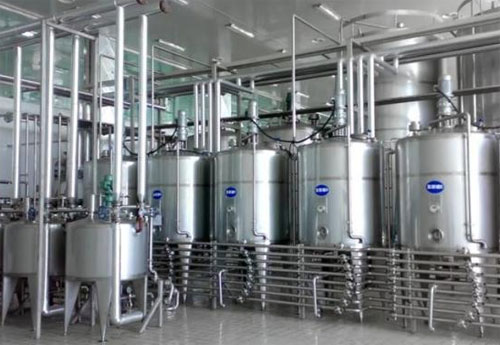 Tanks are widely suitable for storing, blending, fermenting or enzymolysis of fruit juices, jam, tea beverage, dairy food, beer, water and other kinds of liquid materials.
Stainless Steel Tanks Classification
According to different purposes, tanks can be classified with storage tank series, blending tank series, enzymatic hydrolysis tank series, emulsion tank series and etc.
Storage tank series
Storage tanks are container for holding liquids, sometimes for compressed gases, and can be used as liquid storage tank, mixing tank, temporary storage tank. It is widely applicable in food, beverage, dairy food, fruit juice, and pharmaceutical industry, etc.
Blending tank series
As the name suggests, blending tank is used to mixing and blending, and has the function of heating, cooling, keep warming and measurement, so widely used in pharmaceuticals, construction materials, chemical industry and food industry.
Enzymatic hydrolysis tank series
Enzymatic hydrolysis tank is a kind of mixing and stirring container which can keep enzymes activation by adjusting the temperature and PH value, and accelerate improving biological process. It has the function of heating, cooling, keep warming and stirring. The tank has feed inlet, discharge port, water inlet, sample outlets and etc, providing the condition of enzymatic hydrolysis processing. After enzymatic hydrolysis processing, the materials were cooled and discharged.
Emulsion tank series
Emulsion tanks are widely used in dairy product, beverage and food industry, which are the advanced mixing equipment. They are suitable for mixing sugar, starch, milk power and egg power products with emulsifier, stabilizing agent and thickening agent. And usually used in production processing lines of formula milk, yogurt, beverage and ice creams etc.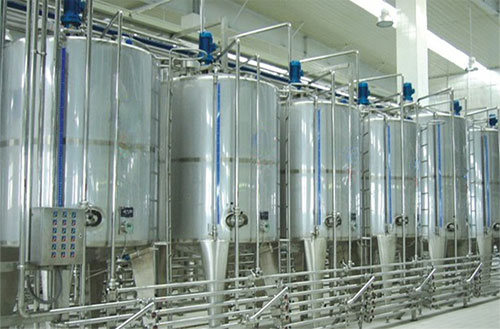 Tanks Features
The volume of tanks range form 100L— 30000L, can also be designed and manufactured to satisfy clients' specific application.
All the tanks are made of high quality stainless steel.
Structural thickness depends on different kinds of containers and volume.
Tanks can also be divided into single-wall tanks, double-wall tanks and triple-wall tanks for different purpose. Single-wall tanks not including insulation and jacket, double-wall tanks have PU insulation, and the thickness of PU insulation is 50-60mm, triple-wall tanks including insulation and cooling or heating jacket.
Stirs form adopt paddle type, anchor type, push type or frame type.
Cylindrical shell, triangular or cylindrical leg, and the height of leg can be adjusted.