Robotic palletizer Introduction
Robotic palletizer is specialized and integrated industrial equipment, with a compact body, can meet your various payload requirements. Together with motion control and tracking performance, the robot is very suitable for flexible packaging systems, greatly reducing the packaging cycle time. Has a very high accuracy, plus excellent belt tracking performance, whether fixed location operation, or movement in the operation, the pick and place accuracy are excellent. Small, fast, tailored to the packaging applications optimized, is the inevitable choice for robot automation. Robot palletizer is widely employed in fields of chemical, oenological, food industry, pharmaceutical, paper, etc. And robot palletizer is usually arranged at the end of entire production line to enhance production and operation capability.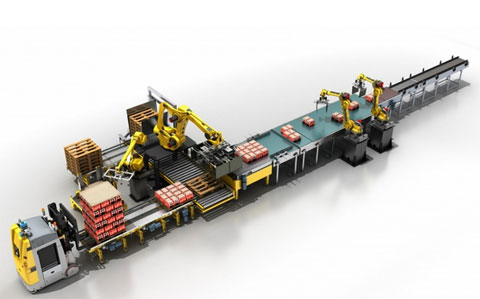 Robotic palletizer Structure
The key component in a robotic palletizer is robot body, which is consist of a 2-axis, 3-axis, or 4-axis gantry robot and patterns cases as per preset mode. Usually a robot consists of a 4-axis articulated, in some cases 5-axis or 6-axis articulated arms are also required should a product need to be tilted or rotated.
Other components in a robotic palletizer consist of the following:
Conveyors that deliver products to the robot.
Pallet dispensers that automatically deliver a single pallet to the robot from a stack of pallets.
Out feed conveyors that pallets with full stacks away from the robot.
Automatic slip sheet or tier sheet dispensers.
Safety devices such as fencing and light curtains.
Safety devices such as fencing and light curtains.
Another key component is the EOAT (end of Arm Tool) which is often custom-designed to handle one or more specific products.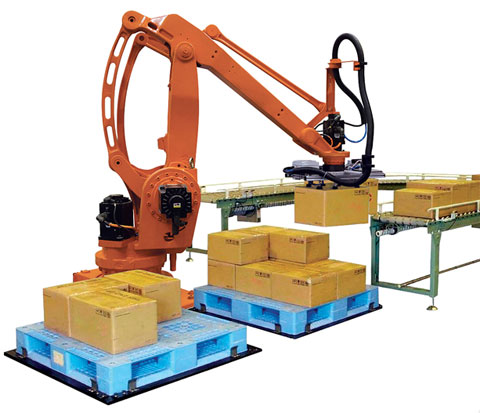 Robotic palletizer Advantages
Compared with conventional palletizer, robotic palletizer has the following advantages:
Space saving, easy operation and good applicability.
Can adapt easier to accommodating different pallet patterns and product types.
Can handle up to 1000 kg.
Can handle many different product types, including cases, bags, pails, bottles, batteries, cubes of scrap metal, and plastic containers.
A single articulated arm can typically handle up to 4 different SKU's. If the articulated arm attached to a moving track or a gantry style robot is utilized, 8 to 12 SKU's can be handled simultaneously by a single robot. This of course depends on important criteria, such as pallet stacking patterns and case rates.
Price can sometimes be less, especially when looking at four or more simultaneous infeeds.
Palletizing rates can vary anywhere from 8 to 30 cases/min for a single robot depending on stacking patterns, requirements, and if the robot is picking a single product, rows of product, or full layer of products.
Mixed case palletizing is possible.