CIP Systems Introduction
CIP Systems are clean-in-place systems and usually used to clean the interior surfaces of food process pipes, vessels, tanks, equipment and associated fittings, without disassembling the process.
CIP Systems Classification
The classification of structure : integral-type CIP system, split-type CIP system
The classification of heating medium: steam heating, electrical heating
The classification of heating mode: plate-type, tube-type, coil-type, steaming-type
CIP Systems Structure
Cleaning tank can be divided into integral type and split-type according to cleaning requirement and volume.
Integral-type :
Acid tank, alkaline tank, hot water tank, pure water tank, backwater tank, sterilizing water tank, concentrated acid tank, concentrated alkaline tank, heat exchanger, supply pump, valves and pipe fittings etc.
Split-type :
Acid tank, alkali tank, hot water tank, centrifugal supply pump, suction and return valves and piping, plate or tube heat exchanger, PLC touch screen and control cabinet, etc.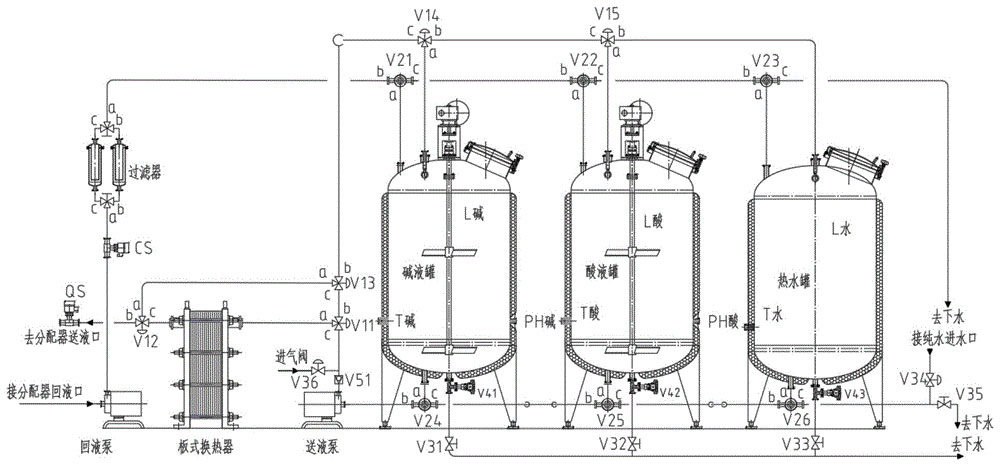 CIP Systems Application
CIP systems are widely used in the pharmaceutical, biotechnology, food and beverage industry. In fruit juice production line, it applicable from pre-treatment to concentrated juice, besides, it also used in sugar melting, syrup preparing, juice mixing, sterilization and so on.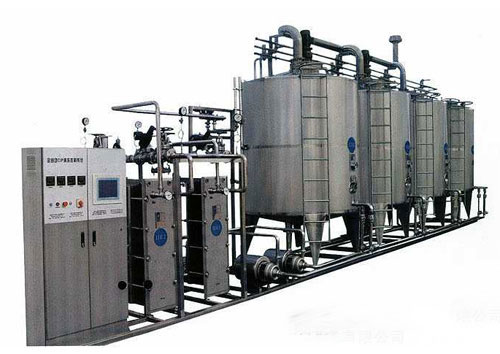 CIP Systems operating principle
Auto-flow control for the cleaning solution.
Automatically regulate the temperature of the cleaning liquid.
Auto-compensate for the inside tank liquid level.
Automatically-compensation for the acid and alkali concentration.
Auto transfer from one cleaning liquid to another.
System auto alarm-device.
Features of a fully automatic CIP system
The fully automatic CIP cleaning system has low economic operation cost, compact structure, small footprint, convenient installation, and maintenance, and can effectively clean production equipment such as cylinders, containers, and pipelines on the spot. The entire cleaning process is run in a closed device, which greatly reduces the risk of secondary pollution.
The system can be divided into one to four according to production needs. Especially for two-way and more than two-way, it can not only clean the same or more than two areas at the same time but also clean during the production process. In this way, the time for CIP cleaning is greatly shortened during production.
The equipment uses a pneumatic diaphragm pump to pump concentrated acid and alkali, which not only reduces the maintenance rate of the equipment but also reduces the operating cost.
Especially the fully automatic CIP system, which can automatically detect, add, discharge, display and adjust the cleaning liquid. It has a high degree of automation, simple operation, and good cleaning effect, so it is more in line with the hygienic requirements and production environment requirements of modern large-scale fluid medicine and food processing technology.
The CIP system can automatically switch various process parameters, and automatically adjust cleaning time, PH value, temperature, and other parameters.
All operations can be recorded for GMP certification.
The automatic CIP system has a single tank, double tank, and multiple tanks for users to choose from.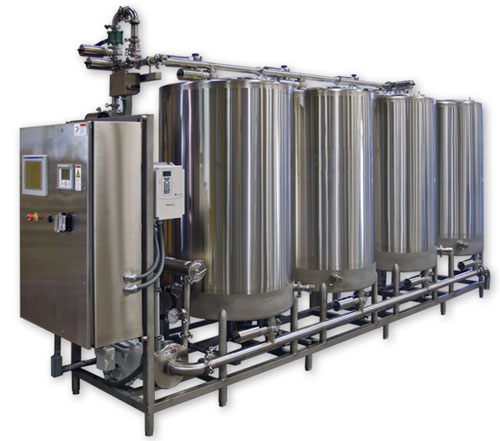 AGICO provides you with the method of CIP (cleaning in place) system installation.
The three tanks of pickling, alkaline washing, and water washing are arranged in a straight line on the flat floor of the workshop, and the verticality of each tank is corrected. Correct the level of the centrifugal pump. The distributor needs to be fixed with anchor bolts.
A drainage ditch is set up near the CIP system, and then a sewage outlet is set up to connect to it.
Connect the piping with the equipment and the pump, connect the water pipe, and steam pipe, and connect the steam condensate outlet.
Install each tank thermometer, liquid level gauge, and various instruments and other components, and follow the relevant product instruction manual during installation.
To install electrical devices and control devices, the operator should operate in strict accordance with the relevant regulations, and test its sensitivity after installation.
After the installation of various pipelines, test the leakage with water to ensure that there is no leakage.
After installation, test acid, alkali, and water tank with water.
Use water to debug pneumatic valves, time relays, and other programs, and only after meeting the requirements can they be put into production.
The use of this equipment must be combined with the equipment and piping layout and cleaning head of the workshop.
Our company always adheres to consulting selling and perfect after-sale service. AGICO offers customers a full range of services from initial consultation and concept design to installation, commissioning, and training.