Introduction Of Double Screw Continuous Extractor for Grape

Double screw continuous extractor for grape is used for extracting grape by crushing and then through the separator residue after the separation of the skin, hot brew method bran and fermented bran in the juice. And grape crushing machine is suitable for squeezing the slag of fermentative grapes or other fruits with high fiber content.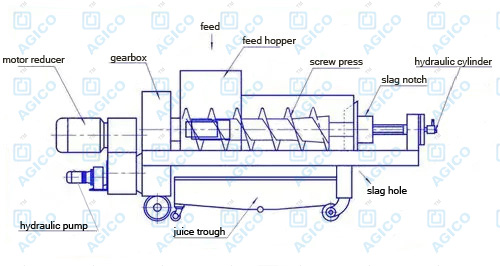 Features Of Grape Screw Type Juice Extractor
Low rotation squeezing with high juice yield.
Slag pressure and humidity are adjustable.
The part in touch with raw material is of qualified stainless steel SUS304.
In addition to the inlet and outlet ports, the rest adopt a sealed structure, and the use environment is clean and hygienic.
A spring baffle is provided at the discharge port to increase the dewatering effect and make the dewatering effect close to the ideal value.
The design of the machine is reasonable, and there will be no clogging when in use.
The screen design of the double screw continuous extractor is very reasonable and can handle materials of different particle sizes.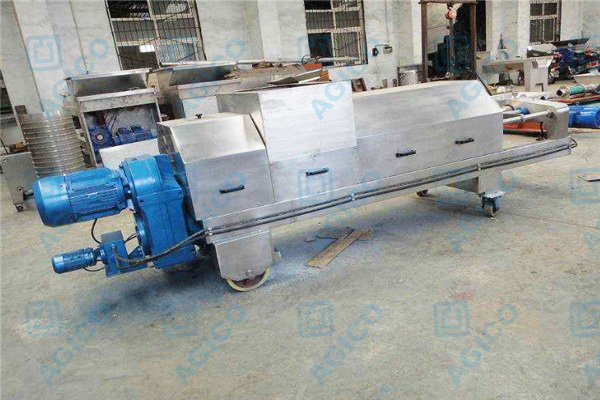 Working Principle of the Double Screw Continuous Extractor
The screw direction of the extractor is opposite, and the pressing force on the material is large and uniform. The hydraulic cylinder can change the pressure effect on the material and adjust the juice yield, and the effect will be different depending on the material.
There are also some situations to pay attention to when using a double-screw continuous extractor.
When using the extractor, due to the gap between the sieve barrel and the sieve groove, a certain amount of food residue will remain during the extraction process, so pay attention when cleaning.
In the process of using the equipment, pay attention to the hard objects that can not flow into the equipment, they will cause different degrees of damage to it, so be careful.
When the equipment is not used for a certain period in the future, the residual liquid should be cleaned up.
Technical Parameters Of Grape Crushing Machine
| Capacity(t/h) | Power(kw) | Weight(kg) | Slag pressure |
| --- | --- | --- | --- |
| 1.5 | 5.5 | 1100 | Adjustable by manual |
| 5 | 7.5 | 2500 | Adjustable by hydraulic |
| 10 | 11 | 2950 | Adjustable by hydraulic |
Packaging and Shipping