Bottle Blow Molding Machine Introduction
Bottle blow molding machine is suitable for blowing different kinds of bottles in sharp, including carbonated water bottles, water bottles, juice bottles, oil bottles, wide-mouth, hot filling, cosmetic and other packing containers.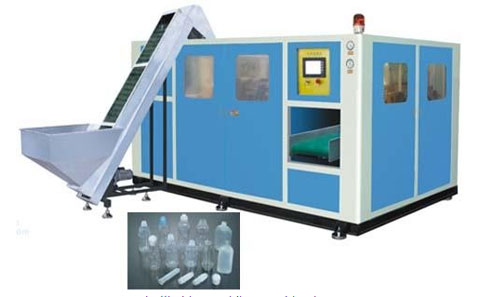 Bottle Blow Molding Machine Features
It has lower rejection rate, higher production, and more stable performance with advanced PLC.
Fully automatic process with low investment, high efficiency, quick and safe operation.
According to special demand, adopt cross double crank pressed clamping, with strong clamping force. Mould open stroke can be adjustable according to the bottle size to save the time.
The air supply system consists of slight blow, high pressure blow, and low pressure actions, to supply enough air for different products.
Conveying performs automatically with the conveyor.
Strong penetrability and good and swift distribution of the heat by letting the bottles rotate by themselves and revolute in the rails simultaneously in the infrared preheater.
High adjustability to enable the preheater to preheat performs in shapes by adjusting the light tube and the length of the reflecting board in the preheating area, and eternal temperature in the preheater with an automatic thermostatic apparatus.

No contamination and low noise with the air cylinder to drive the action instead of the oil pump.

Customer's design.

Stable performance with advanced PLC.
Working Principle of the Bottle Blow Molding Machine
The heated preform enters the mold coupler for blowing. The hot preform enters the mold coupler, and the preform is sealed, with pre-blowing gas. The stretching rod at the bottom stretches the preform upward, pre-blows the gas to a certain extent, blows at low pressure, and at the same time enters the blowing at high pressure, and the bottle is instantly formed in a short time to complete the blowing. Before pre-blowing the gas, a refrigeration dryer is generally installed. The gas passes through the filter, which filters the moisture in the air and the oil in the equipment, and the formed bottle has no oil smell.
Bottle Blow Molding Process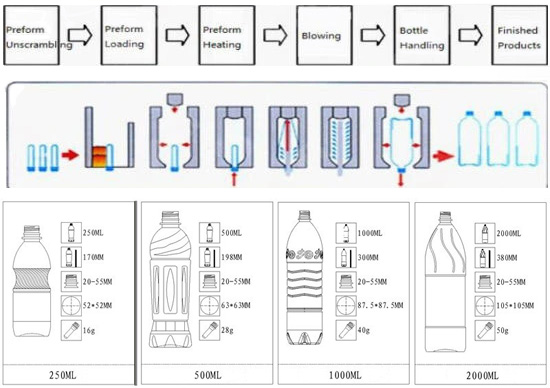 Bottle Blow Molding Process Main Parameter
| Model | Capacity | Volume | Neck diameter | Mould size |
| --- | --- | --- | --- | --- |
| BBM-A1 | 1800-2000 pcs/h (depend on bottle size) | 0.1-2 L | 18-38 mm | 370*240*320mm |
Bottle Blow Molding Machine Features
Adopting double crank to adjust mold, heavy locking mold, stable and fast.
Adopting an infrared oven to heat the preform, the preform rotated and heated equally.
The air system has been divided into two parts: The pneumatic action part and bottle blowing part to meet the different requirements for the action and blowing. It can provide sufficient and steady high pressure for blowing large irregular-shaped bottles.
The machine is also equipped with a muffler and oiling system to lubricate the mechanical part of the machine.
The machine can be operated in the step-by-step mode and the semi-auto mode.
The machine is small with low investment, and easy and safe for operating.
Bottle Blow Molding Machine Details

Packing and Delivery