Fruit Elevator Introduction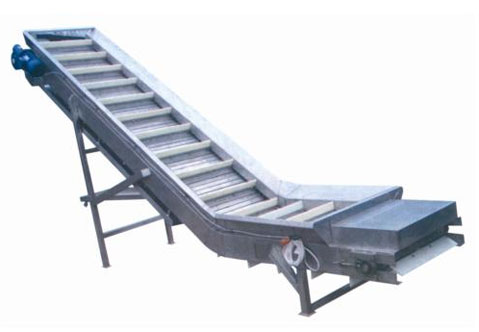 Fruit elevator is used to convey the fruits from flumes to the washing channel. With smooth scraping baffle and water-penetrating structure, fruits can be easily transported to the washing channel without sliding outside.
This product and fruit crusher are both necessary equipment for the production line. The fruit elevator is composed of a food-grade engineering plastic mesh belt, a stainless steel frame, a electronic stepless speed regulation machine, and a stainless steel receiving trough.
Fruit Elevator Features
It fits to transfer and lift the fruits and vegetables.
This machine is equipped with stepless speed variation motor, with adjustable speed.
The model of transfer and lift can be made to order, divided into complete stainless steel connected plate, food level plastic line board, and food level compound robber belt.
The sprayer and water collector can be added according to needs.
The motor is equipped with a stainless steel protective cover to prevent rain and water flushing to reduce the occurrence of failures.
The overall frame is made of high-quality stainless steel, which is strong and durable.
Fruit Elevator Technical Parameters
| | | | |
| --- | --- | --- | --- |
| Model Project | BSJ-2 | BSJ-5 | BSJ-10 |
| Production capacity(T/h) | 2 | 5 | 10 |
| Power(KW) | 0.75 | 0.75 | 1.5 |
| Size(mm) | 3000*600*2500 | 3000*850*2500 | 3000*950*2500 |


A service pledge from AGICO:
After the equipment is installed, our professional technicians will provide free guidance and training to the operators designated by your company, so that they can master the operation methods of the equipment and carry out general maintenance.
Free warranty is provided on the product, the length of which depends on the machinery.
AGICO provides you with the installation steps:
Lineation
Check anchor bolts and embedded steel plates
Check the position of the individual parts of the elevator
Install the truss according to the anchor bolts
Install and adjust the equipment
Install the telescopic head
Install the feed chute
Install the tensioning device
Install all brackets for the electrical section
Tape cutting and vulcanizing joining
Installation steps of the electrical part of the elevator:
Install the cable duct
Install limit switches, protection devices, electric control cabinets, etc.
Install electric lights
Lay the cable
Connect the wires