Aseptic Bag Filling Machine Application
Aseptic bag filling machine is widely used in the aseptic filling of food, biology, pharmacy processing industries. For example, fruits and vegetable juices, tomato paste, tea drinks and so on.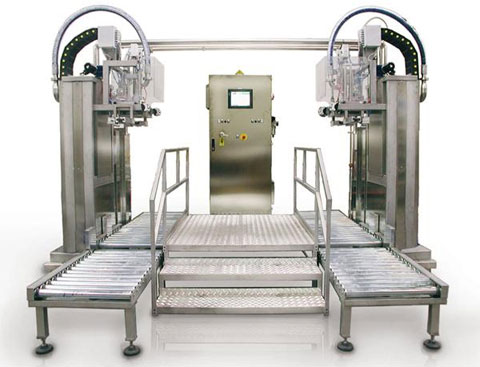 Aseptic Bag Filling Machine Components
This machine consists of aseptic filling room, working flat, pneumatic system, steam system and controlling system.
Aseptic Bag Filling Machine Working Principle
First step, pre-sterilize the filling machine with steam. Then, poured sterilized material into filling machine, at the same time, connect asepsis bag with filling room and sterilize them. At last, open the filling valve, electromagnetic flow meter and dose material into asepsis bag. This kind of product can be stored for one year at normal temperature.
Aseptic Bag Filling Machine Features
The filling head can be one or two according to the required capacity. Double head filling machine can fill material continuously, reduce refluence, increase production efficiency.
Controlling mode: PLC, flux controlling, PID temperature controlling.
Capacity: single head: 5-200L, double head: 5-200L.
Max filling capacity: single head: 5000L, double head: 8000L.
Keeping the filling chamber sterilized all the time using steam protection.
Easily adjustable with simple change parts according to the aseptic bag volume and size.
The filling chamber can keep the aseptic temperature 95º C to guarantee the aseptic environment during the filling process.
All systems come complete with accurate liquid or pulp metering, and high-specification electrical controlling systems to ensure highly accurate and reliable filling even in arduous situations.
Easily integrated into the plant CIP systems.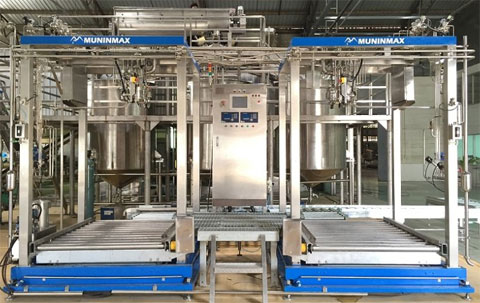 Precautions for Aseptic Bag Filling Machine
The physical and chemical indicators of packaging materials and their fungicides should meet the requirements. The loading, unloading, and storage of packaging materials should be carried out in strict accordance with the regulations, otherwise, it will cause a large number of products to be unqualified.
The technical indicators of the UHT system connected with aseptic packaging equipment must meet the requirements.
Raw materials should meet the prescribed physical and chemical and microbiological indicators.
The CIP system must be matched to the aseptic packaging machine, and the welding of pipes and the connection of valves must comply with the requirements specified in the user technical manual.
Cleanliness control of clean rooms.
The role of sterile air is to provide a sterile environment in the filling room while drying the packaging film, its cleanliness directly affects the shelf life of the product.
The material pipeline should minimize the number of joints, valves, and elbows, avoid sharp turns, and try to walk in a straight line.
Packing and Delivery