Tomatoes are nutritious and have a special flavor. It can be eaten raw, cooked, processed into ketchup, juice, or canned food. Tomatoes are one of the most commonly cultivated fruits in the world. The United States, Russia, Italy and China are the main producing countries.
Tomatoes can be squeezed into juice to drink, and tomato juice has many benefits.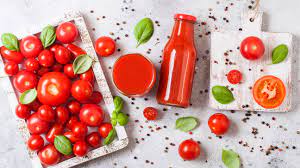 1. They are helpful for digestion.
Drinking tomato juice keeps your liver healthy, and tomato juice can be effective in aiding digestion and preventing constipation.
2. They are good for the heart.
According to multiple studies, lycopene has been linked to heart protection. Tomatoes are thought to help reduce cardiovascular disease because they contain lycopene, β-carotene, and γ-carotene. These components lower cholesterol while also preventing LDL cholesterol oxidation and atherosclerosis. The nutrients in tomatoes help keep our blood healthy. Studies have shown that a high intake of lycopene can reduce the incidence of coronary heart disease and cardiovascular disease by 30%.
3. They are good for the skin.
Studies have shown that drinking tomato juice daily may lead to a reduction in acne and the prevention of UV skin cell damage.
4. They can strengthen our immune system.
Tomato juice is rich in vitamin C. Vitamin C aids in the absorption of iron, helps your body regenerate antioxidant vitamin E, benefits your immune system, and has anti-cancer benefits. Studies have found that tomato juice has a preventive effect on some types of cancer, and has inhibitory effects on lung cancer and endometrial cancer.
5. They are good for eye health.
Because tomatoes are rich in the phytonutrients β-carotene, lutein, and zeaxanthin, they can help keep your eyes healthy and prevent eye degeneration.
6. Drinking tomato juice can lead to a good workout recovery.
Tomatoes provide the perfect balance of chemicals to help your body recover from strenuous exercise. Drinking tomato juice was shown to actually lead to speedier muscle recovery than drinking carbonated drinks.
7. It is a great diet drink.
Tomatoes are rich in fiber, especially insoluble fiber (more than 80%). Insoluble fiber is a type of fiber that is not easily digested by the body. This allows us to stay full for longer, enhance satiety and avoid overeating.
Both tomato peel and pulp contain fiber, but tomato peel is higher in fiber. To get the most out of tomato drinks, tomato peel can be added to the juice.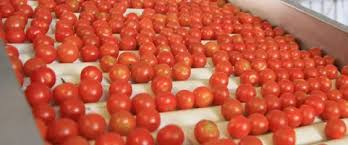 In many countries, tomato juice is widely consumed as a nutritious beverage. Good tomatoes can squeeze high-quality tomato juice, so the selection of fruit sorting machines is very important. After cleaning and sorting in the use of the fruit sorter, the fruit quality is higher and more hygienic.
Tomato juice has many benefits for you. Replacing unhealthy beverages like carbonated drinks and other sweetened drinks with tomato juice is a healthy way to eat. However, it is not recommended to drink plenty of tomato juice. Drink tomato juice in moderation.