Spiral juicer plays an important role in making fruit juice, with high working efficiency and easy operation. Thanks to the simple structure, spiral juice extractors are handy to maintain and clean. Here I'd like to introduce the composition and working principle of spiral juicer, where it is applied, and how to maintain it. AGICO is a juice making machine supplier in China. We can meet you demand of high-strength and durable spiral juice extractor.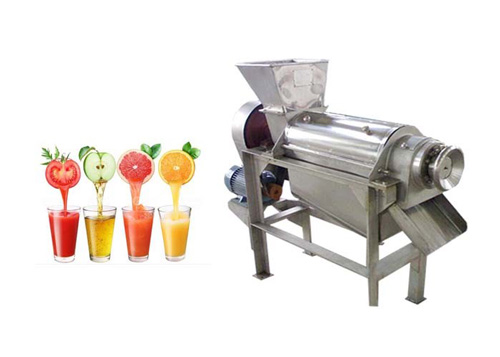 Spiral juicer working principle
Spiral juicer is composed of a feed hopper, spiral shaft, filtrating screen, juice container, rear support and slag spout. The left of spiral shaft is supported by the rolling bearing block, while the right end is connected to a hand wheel bearing block. There is an electric motor drive the spiral shaft with a couple of belts. As the shaft rotates clockwise towards the slag spout, the bottom diameter keep increasing and the screw pitch shrink gradually. By this mean, when raw materials are fed into the juicer along the spiral shaft, they are gradually squeezed by the shrinking chamber.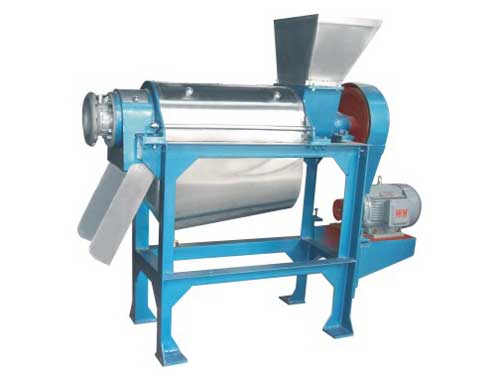 When fruits and vegetables are propel and squeezed by the spiral shafts, the squeezed juice flows into the container below through a filtrating screen, while fruit slag come out through the clearance between shaft and pressure regulating valve. You can adjust the clearance the change the slag yield, which is determined by the type of fruits you are going to process.
Spiral juice extractor applications
Nowadays, fruit juice and wine get increasingly popular and sell well on the market, which stimulates the application of spiral juicers. After the juice is extracted from fruits and vegetables, it is processed by other juice making machines into high value-added commodities.
In addition, spiral juice extractor is also used to extract juice from peel pomace, sea buckthorn Fruits, crushed ginger and bamboo shoots, and dehydrate fermented rice husk, distillers' grains, cassava residue, stevia rebaudiana, chrysanthemum, cabbage, wula sedge, celery and herb residue.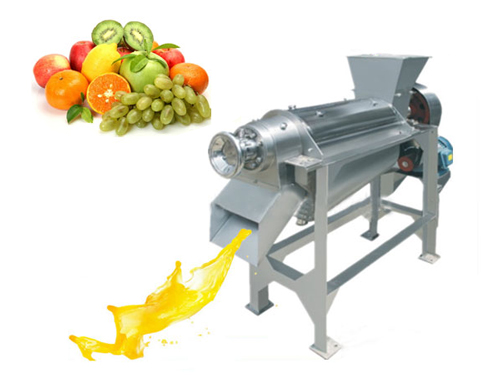 AGICO spiral juice extractor features high strength, high bearing capacity, free from deformation, blocking, slipping. With strong corrosion and wear resistance, it has long service life and easy to maintain. Spiral juicer has advantages over other types of juice extractor machine, which has wide application in brewing, chemical engineering, pharmacy, and solid-liquid separation for environmental protection.
How to maintain spiral juice extractor
The external cleaning is convenient, you can wipe it with a rag. Never wash it with water or scrape with hard tools lest the surface is damaged. Never dip the pedestal into water in case of any harm to the electric motor.
Take down the blades if condition permits, but never do this too often. Pull out the fruit residue winding around the shaft along their path, then wash the blades and shaft.
You can use disused little brush or tooth brush to clean up small gaps and slots to achieve better effect.
If you use the spiral blades to mince meat, you can add some bun slag to the machine, which can absorbs the minced meat and clean up the blades.
Whenever you finish juicing, turn off the machine and separate the barrel and main engine. Clear the chamber roughly in cast the fruit slag get congealed, which would be a huge trouble for cleaning.