Although the fruit juice production line in China is numerous, but some small and medium-sized enterprises generally exist the problem that lags behind in technology, equipment. The development space of filling machinery in China is still vast, and the level of the packaging technology of fruit juice production line needs to be developed urgently.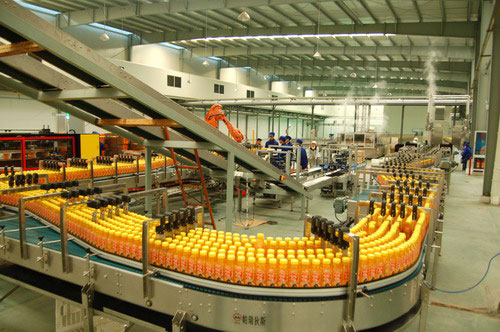 Development trend of juice production line in the future
High quality, high precision, high speed, develop to the large-scale. In order to adapt to the beverage industry production, obtain the best economic efficiency, beverage equipment is larger and larger. For example, Germany H&K company, SEN company, KRO-NES company, the filling valve head of the filling equipment respectively reaches 165 heads, 144 heads and 178 heads. the number of filling valve head of non carbonated beverage equipment has up to 50-100 head, filling speed up to 1500 cans /min.
Machine mechatronics. This is an important trend in the development of the current beverage equipment. High technical content and high reliability of production equipment, high level of automation and high efficiency of full production line. Online detection device and measuring device are complete, which can automatically detect the parameters, measurement is accuracy. The high and new technology products with integrated machine, electricity, light and magnetism are emerging constantly. The reliability of packaging equipment and the coordination of packaging line directly affect the efficiency of the entire production line, production costs and product quality.
Brand is the soul of an enterprise. At present, there are a lot of fruit juice production mechanical products, but a good brand is very few, why? Some enterprises do not pay attention to the brand, only focus on research and development, resulting in a good product don't have a good brand and affect the increase of market share. If an enterprise want to run their own brand, they must have a reliable product quality, high quality after-sales service and establish the image of marketing, the three are indispensable.
Due to the rapid development of science and technology, the machinery industry has been rapid development, especially the wide use of automation, intelligent technology, so that human society has quickly entered the era of automation. Juice production line industry has also benefited a lot. In the face of internal and external market, fruit juice production line manufacturers actively introduce foreign advanced technology, carefully research and study on the filling machine, at the same time, according to the needs of the domestic market to upgrade and transform. In particular, automation, intelligent technology used in the development and production of fruit juice production line, so that it is better in line with the trend of the times.