Sterilizing Kettle Introduction
Sterilizing kettle is applicable to bottled and canned food for secondary sterilization. Following are some sterilizing kettles we can use in common:
Revolving Spraying Water (static) Sterilization Kettle
Revolving spraying sterilization kettle sprays hot water with high pressure and high temperature onto surface of packing material of food for quick high-temperature sterilization on various foods. When foods are in high-speed spraying hot (cold) water, temperature of each part will be reduced greatly and effectively. Meanwhile, overheat will be prevented inside of packing of foods.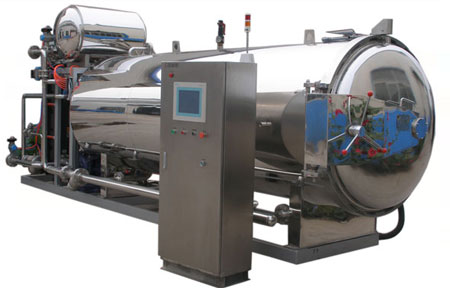 The horizontal sterilizing kettle
The horizontal sterilizer kettle is applicable for sterilizing the tinned oral liquid, meats, cans, beverage and medicine in high temperature. At the same time it can test and conduct a vacuum test after the canning, locking and sterilizing .This sterilizing kettle uses the round cylinder taking the compressed air as reaction force. The canned materials can be cooled quickly and used compressed air as reaction force to keep the glass bottle from breaking, its cap falling off and loosing after they have been sterilized in the pot.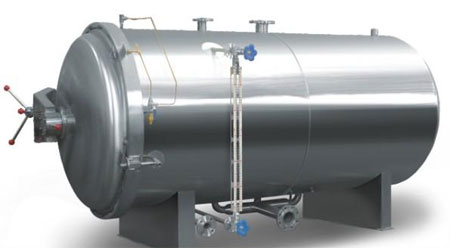 Double baths sterilizing kettle
Hot water cycle type bacteria killing kettle can preheat the up-tank to the required temperature before working, put the water in the up-tank to the down-tank quickly, and according to the flows of pump, steam direction set up hot water separation devices, through the large pumps and large calibra pipes, put water in the pot after spray equipment four cycles rapidly, reach sterilization without dead ends, false ends, and can avoid the phenomenon of overheating around the foods, make the food sterilization fast and accurately.