Plate UHT Sterilizer Introduction
Sterilization is an indispensable step of juice beverage before filling and packing. Plate UHT sterilizer is ideal equipment for sterilization of milk, beverage and other fluid materials. Its sterilization temperature is 137。C, warm keeping time is for 3 to 5 seconds, so to keep the original color, nutrition, and flavor of the beverage and dairy.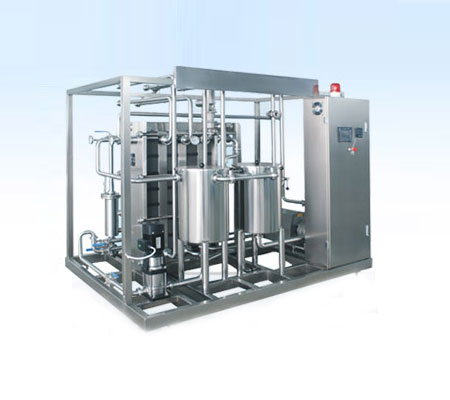 Plate UHT Sterilizer Features
The Capacity: is from 1 to 10T/h.
Plate heat exchanger for sterilization.
The medium for heating is high pressure steam.
High heat recycle, compact and fine structure, and temperature control.
Control outputting material temperature, and cool package.
Plate and fluid piping are made of high-quality stainless steel 304.
Inadequate temperature or malfunction of filling and packing system can make the fluid materials automatic reflux.
Plate UHT Sterilizer Application
The Plate UHT sterilizer integrates the process of preheating, sterilization, heat preservation and cooling together, widely used for sterilization of food, milk, beverage, fruit juice, vinegar, wine and other similar fluids.