Vacuum Degasser Introduction
Vacuum degasser is the device that excludes non-condensable gases contained in the feed solution by vacuum suction, it is essential degassing equipment which is used in dairy products, fruit juices and other materials processing line. It is removing the gas attaching to the suspended particulates, stopping the particles upping, and at the same time prevent browning and oxidation, so as to improving the looking, reducing bubbles in high temperature sterilizing and filling. Normally, vacuum degassing is after homogenizing and sometimes, is before filling.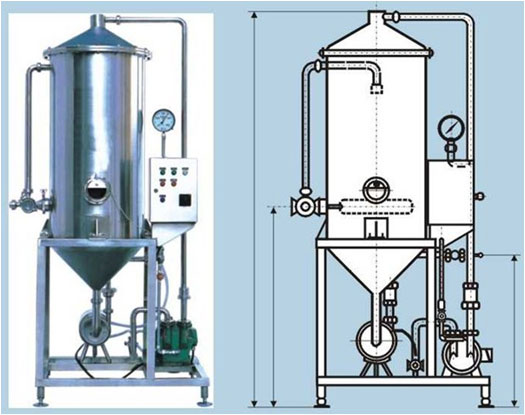 Vacuum Degasser Features
It's main components are degas chamber, condensers, vacuum pump and etc.
Degassing rapidly and thoroughly.
Can add specific gas recovery unit for options.
Working in series with sterilization machine.
Control system can be divide into manual control and automatic control.
Vacuum Degasser Technical Parameters
Model
VD-1.5
VD-2.5
VD-5
VD-10
Capacity(T/h)
1.5
2.5
5
10
Power(Kw)
2.2
2.2
4
15
Vacuum degree
(Mpa)
-0.08~-0.0906