Spiral Juice Extractor Introduction
Spiral juice extractor is used to extract various fruits and vegetables juice such as apple, pear, carrots, pineapple, and ginger and so on. The machine combines the functions of fruit crushing and juicing, thus becoming essential equipment in many food processing industries.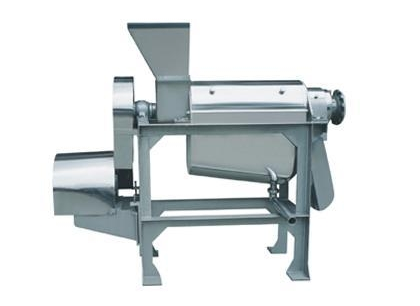 Spiral Juice Extractor Structure
This machine is composed of feeding hopper, crushing device, screw device, support device, filtering screen, juicing container, and fruit residue discharging spout, etc.
Spiral Juice Extractor Working Principle
When the raw materials are added into the material feeding hopper, they are propelled by the spiral, the pressure volume reduces, and the pressure presses the raw materials to finish extracting process. The extracted juices will flow into the juice container through the filter screen, and the waste materials will be discharged through the ring interval formed between the spiral and the pressure adjusting taper part. The movement towards the axial direction by the pressure adjusting head can adjust the size of interval so as to adjust the juice extracting rate.
Spiral Juice Extractor Features
Wide application. The spiral juice extractor applies to various fruits and vegetables juicing.
Including crushing part and juicing part, the users do not need extra crushing part.
Deslagging automatically after juicing
The part that touches the raw material is made of stainless steel which can keep the juice clean and health.
Spiral Juice Extractor Technical Parameters
| Model | Size(mm) | Power(kw) | Capacity(t/h) |
| --- | --- | --- | --- |
| TP-Z5 | 850*380*850 | 1.5 | 0.5 |
| TP-Z0 | 910*420*940 | 2.2 | 1 |
| TP-Z15 | 1300*700*1330 | 4 | 1.5 |