Centrifugal Juice Disc Separator Instruction
Centrifugal juice disc separator is vertical centrifuge with compact structure, less occupied area and large production capacity. It suitable for separation of liquid-solid and liquid-liquid-solid when solid content is between 1%-15% and diameter of solid particles should be more than 0.5 micrometer. So it is widely applicable to centrifuge and processing of the fruit juice and jam of tomato, lemon, orange, mango, and etc.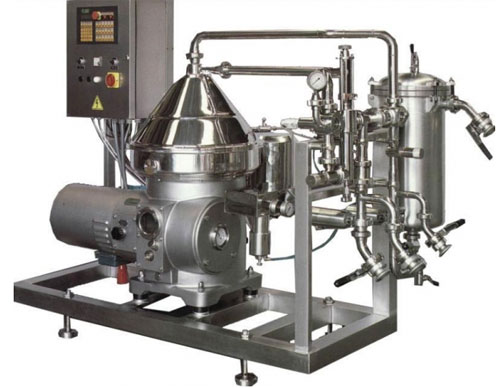 Centrifugal Juice Disc Separator Operating Principles
Separation takes place inside a rotating bowl. The feed is introduced to the rotating centrifuge bowl from the top via a stationary inlet pipe (1),and is accelerated in the distributor(2),which was specially designed to ensure smooth acceleration of the feed liquid(4). Leaving the distributor, the feed enters the disc stack (3). The separation into liquid-liquid-solid takes place between the discs, with the oil phase moving through the disc stack to the centre. When it reaches the centre, it is discharged through hole (5) and ejected into the collecting frame. The water and heavy solid separated from the oil move to the periphery, and the water flows via channels in the top disc(6) to the paring chamber, where it is pumped out of the rotor by means of a built-in paring disc(7).During purification, hot water is fed into the inlet of the bowl before the process liquid is introduced. The water forms a seal around the outer edge of the top disc. The solid collect is in the periphery where they are discharged intermittently via the centrifuge cyclone. The solid are discharged by means of a hydraulic system, which forces the sliding bowl bottom(8)to drop down at preset suitable intervals, thus opening the solid ports at the bowl periphery.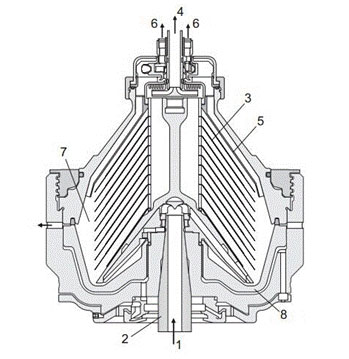 Centrifugal Juice Disc Separator Features
Centrifugal juice disc separator for juice lines adopts automatic control, it has the advantages of high efficiency, low material consumption, convenient operation and economic maintenance cost. It adopts small piston structure for gaining variable discharging, PLC control both partly and fully discharging in order to get rid of sediment.
The machine is one kind of rotary machine with high speed. After accurate dynamic balancing, it can run for long time with low vibration, safety and security.
All parts in contact with the process liquid are made of stainless steel.
Centrifugal Juice Disc Separator Technical Parameters
| Model | Bowl Speed(r/min) | Capacity(L/h) | power(kw) |
| --- | --- | --- | --- |
| DC-500 | 6200 | 8000-15000 | 18.5 |
| DC-750 | 4900 | 50000-80000 | 55 |