Bottle Unscrambler Introduction
Bottle unscramber is the soft beverage ancillary equipment, which is design for high speed filling line. It can perform the process from feeding disordered PET to air conveyor of the filling machine in sequence to meet automatic production requirement of filling machine.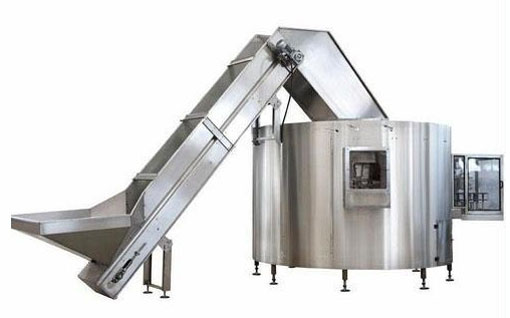 Bottle Unscrambler Features
The bottle blocking tester will give an alarm when the bottle is blocked.
It is equipped with bottle eliminating mechanism.
Adopt bottle mouth air channel so that the bottle can't be turned over during transportation.
Controlled by PLC procedure, digital readout of unscrambling bottle speed.
Storage tank of high-capacity, which can avoid starving.
Easy to operate, clean and maintain.
Run automatically at high speed, easy to combine with all kinds of fillers or filling production lines.
Bottle Unscrambler Technical parameters
Model
Capacity(bph)
Compressed of air Pressure(Mpa)
Gas volume(m3/min)
Power(kw)
To adapt to bottle-type(mm)
Dimensions(mm)
ABU-1
8000-12000
0.7
0.5
2.2
Bottle Drive
50-90, bottles of high 150-290
2500*2660*2000
ABU-2
1200-1800
0.7
0.6
4.4
2650*3300*2200