Colloid Mill Machine Application
This machine is suitable for pharmaceutical, foodstuff, chemical and other industries of wet superfine grinding materials, and can play all kinds of half wet body and emulsion material crushing, emulsion, homogeneous, and mixing. In the field of foodstuff, colloid mill machine is applicable to processing fruit tea, ice cream, cream, jam, fruit juice, soybean, bean paste, red bean milk, peanut milk, protein, soy milk, dairy products, malted milk, essence and various beverages.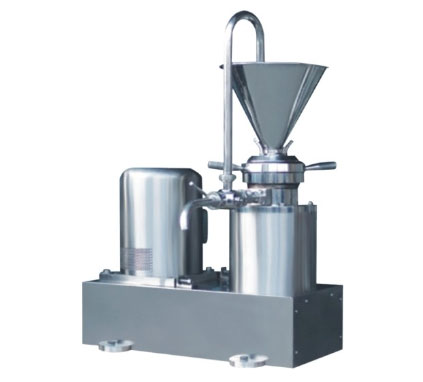 Colloid Mill Machine Working Principle
Through high speed relative motion of rotor and stator, make the material get strong shearing force, friction and high mode vibration. Effectively crush, emulsify, homogeneity material to reach refined product.
Colloid Mill Machine Features
The colloid mill is mainly composed of motor, grinding head, transmission base, spinning rotor and fixed stator etc.
Parts contacting materials are made of stainless steel, corrosion-resistant and durable for use.
Low noise and small occupancy space, saving energy and cost.
Colloid Mill Machine Notice
It's never allowed to be mixed with hard materials such as quartz sand, broken glass, scrap metal, and strictly prohibited into the processing equipment.
Make sure that the chamber of the machine must have water or liquid materials when started or closed machine and before and after washing machine, barred idling and reverse. Otherwise, improper operation may damage mechanical components or causes motor spilling and burning faults.
Colloid Mill Machine Technical Parameters
| Model | Capacity(kg/h) | Power(kw) | Weight(kg) | Dimension(mm) |
| --- | --- | --- | --- | --- |
| JM-50 | 10-15 | 1.1(380V)1.5(220V) | 50 | 530*260*580 |
| JM-80 | 70-150 | 4(380V) | 150 | 640*410*580 |
| JM-110 | 200-300 | 15(380V) | 175 | 700*430*980 |
| JM-130 | 400-600 | 15(380V) | 285 | 830*440*1100 |
| JM-180 | 800-1000 | 18.5(380) | 340 | 830*490*1100 |