Continuous Spraying Sterilizer Introduction
Continuous spraying sterilizer is widely applicable for sterilizing and cooling various bottled or canned fruit juice, liquor, other beverage and seasoning etc.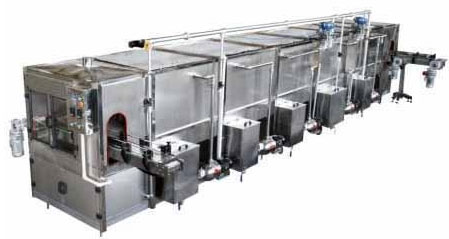 Continuous Spraying Sterilizer Working Principle
When conveyor belt transport bottles or cans into tunnel, they will experience 4 periods, namely preheating stage, heating stage (sterilization stage), precool stage, and cooling stage. After these four stages spraying, the product was sterilized and the temperature is lowered down to the room temperature. All the used water shall flow back to the bottom tank for recycling.
Continuous Spraying Sterilizer Features
The sterilizer temperature can control automatically and the sterilization time can be adjusted.
The machine is equipped with 4 temperature zone, temperature gradient is small, which can guarantee good sterilizing effect, and can reduce the bottle breaking rate.
The continuous spraying sterilizer can be designed according to the sterilization condition and output suggested by customers.
Steam consumption is adjusted according to temperature.
The material of frame and machine body is made of 304-stainless-steel.
Production capacity: 100-400 can/min Sterilizing temperature: 100℃. Steam pressure: 0.4 Mpa.